The whole social media have gone agog over the outburst between DMW singer, Peruzzi and social media influencer, Pamilerin Adegoke.
Peruzzi had reportedly beaten up Pamilerin at Denrele's club opening in Bayelsa and friends of the supposed victim are not finding it funny.
As a matter of fact, a consortium of social media practitioners, Digital Media Practitioners of Nigeria (DMPN) has condemned the assault on one of theirs.
Attached is the official press release of The Digital Media Practioners of Nigeria with regards to the assault on Mr Pamilerin Adegoke (@thepamilerin); a member of this Association by Mr Tobechukwu Victor (@Peruzzi_VIBES). pic.twitter.com/pkPsYBTHLz

— Digital Media Practitioners (@dmpnig) June 10, 2019
According to multiple reports, Peruzzi had a prior knowledge that Pamilerin will be in attendance at Denrele's party. However. no clear details of the altercation between the two that led to Peruzzi landing Pamilerin a slap while his bodyguard aided him by holding the social media influencer down.
Since the news broke out, different reactions have continued to trail the topic on Twitter. Some throwing support on Peruzzi for dealing with Pamilerin the way he did, others condemning the singer's action.
However. Denrele comes up with a more confusing side of the story stating that the two never met at his party.
Pamilerin strolled down & I immediately started teasing him about how he missed out on a great nite out at d club. And we laughed about the shenanigans that @PEXXIE & Shewenzi were up to.
I was truly grateful that everyone came thru to support CLUB DIPS but most importantly, ME!

— Denrele Edun (@DENRELE_EDUN) June 10, 2019
Nevertheless, from all indications, Pamilerin was obviously assaulted by Peruzzi and it seemed like war brewing between social media influencers and musicians.
How it started:
It all started with a tweet by Pamilerin Adegoke saying Teni the Entertainer is better than Peruzzi when she snagged Soundcity MVP's "Best New Act".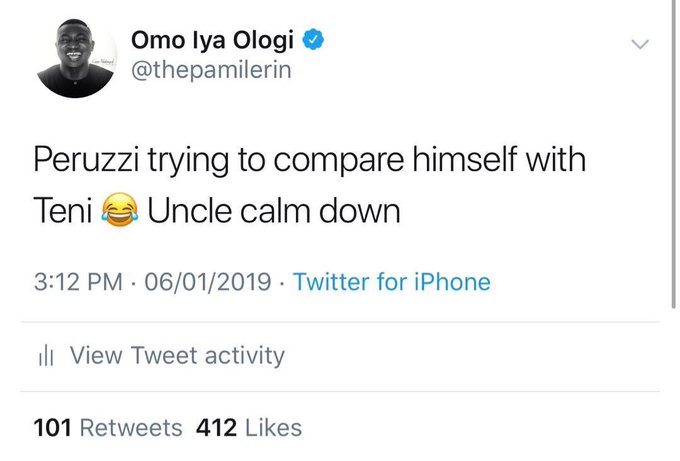 Following her win in the category which Peruzzi was also nominated in, he had taken to Twitter to express that he was stil the hardest working and highest earning best new act of 2018.
Peruzzi's tweet had been seen as envy by many Nigerians who slammed him that Teni deserved the award as she had more hits than him.
Twitter Reactions
Incase you missed the Peruzzi vs Pamilerin gist, here's a quick recap. 👇🏽👇🏽👇🏽

Please don't thank me, I'm just doing the Lord's work 😇😁
pic.twitter.com/1tOCsVhDPm

— MAL' 🇺🇸🇳🇬 (@iam_FY_) June 10, 2019
I said don't come to my tl again
Oya, chop slap pic.twitter.com/LlyvFlZUfa

— Hustle!! (@thacuteman) June 10, 2019
Instablog and their caption 😂😂😂 "Peruzzi temporarily abandons music to slap people " pic.twitter.com/raBUR0TJAZ

— THE NIGHT KING'S WIDOW (@RaiFlowe) June 10, 2019